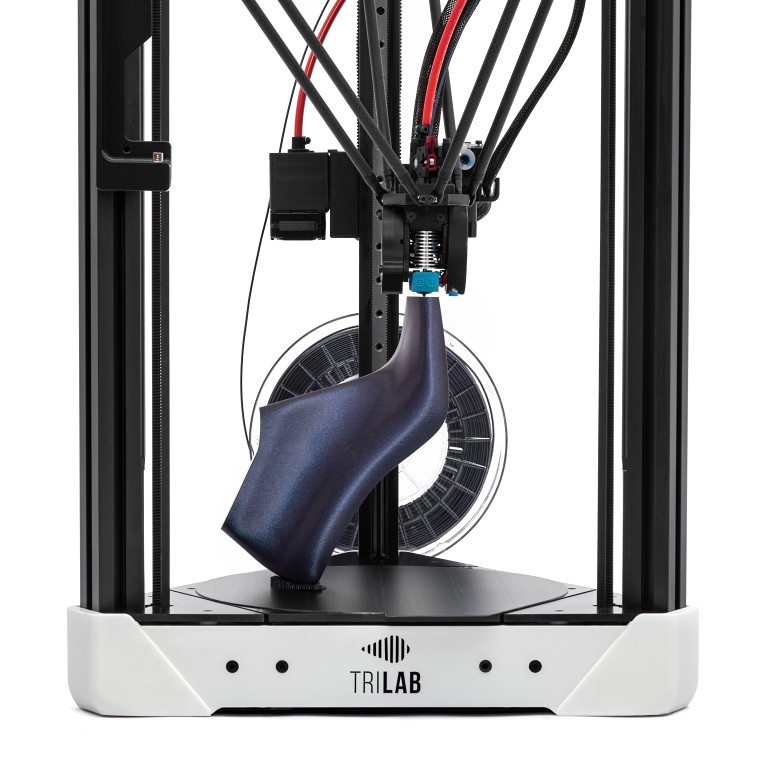 TRILAB FlexPrint
With a unique remote direct drive extruder your TRILAB DeltiQ will be able to print even the softest flexible materials with no hassle.
Nimble direct drive is the optional addon. But hand on hearth – you will love this solution from the start!
One material is not enough?
Meet TRILAB QuadPrint
We make no compromises even when it comes to multi-material printing.
TRILAB DeltiQ 2 keeps one nozzle and one extruder because it's 100% reliable and trouble-free configuration. Instead of changing the extruder, we're adding a smart external device called Mosaic Palette 2. Just like that, you will be able to print from up to 4 print materials at a time.
And with no hassle, because we will ensure that DeltiQ 2 and Palette 2 work simply and in perfect symbiosis.
There's a lot you can do with TRILAB QuadPrint:
print from 4 different colors of PLA or PETG
print from soluble supports (e.g. PLA with BVOH)
combine multiple materials (e.g. PLA with flexible TPU)
combine more colors, materials and soluble supports at once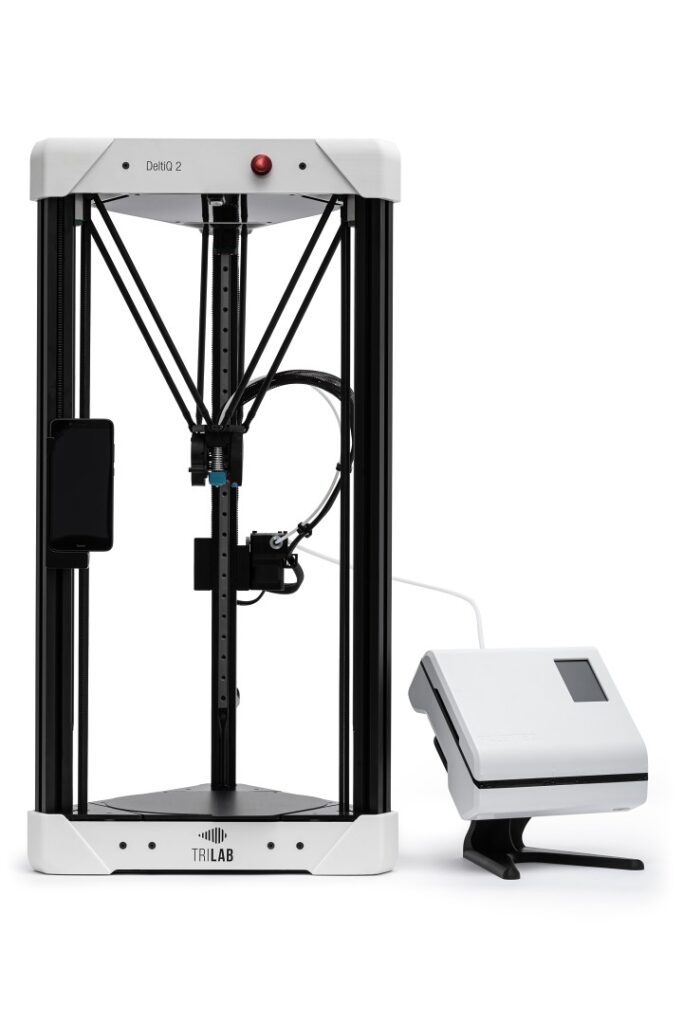 Printer Specification

Print technology
Fused Deposition Modelling (FDM)
Print Volume
DeltiQ 2: Ø 250mm (X, Y) × 300mm (Z)
DeltiQ 2 Plus: Ø 250mm (X, Y) × 500mm (Z)
Printhead
Light printhead; E3D V6 all-metal hotend; Easily swappable as a complete assembly
Extruder
E3D Titan geared extruder, bowden setup
Optional "FlexPrint Edition" – Zesty Nimble extruder for demanding and flex filaments
Print Platform
Massive, 5 mm thick aluminium heated print base
Swappable magnetic PrintPad sheet with PEI surface
PrintPad sheets with alternative surfaces available
Control interface
Wireless 5.45" IPS "DeltaControl" display, incl. charging dock
DeltaControl app; iOS/Android
WebControl interface; PC/Mac
Connectivity
LAN or WIFI with local or remote access
3x USB: WIFI/LAN module/USB drive/Webcam/Palette 2
Print Monitoring
Multicolor LED indicator for visual print status overview
Built-in camera with print illumination
Supported input formats
STL, gcode; standard slicers (Kisslicer, Cura, PrusaSlicer, Slic3r, Simplify3D)
Operating printer temperature
Recommended printer operating temperature is 20 – 32 ° C (68 – 90 ° F), storage temperature 0 – 32 ° C (32 – 90 ° F)
Dimensions and weight
(printer)
DeltiQ 2: 41×50×81 cm / 10 kg
DeltiQ 2 Plus: 41×50×98 cm / 11 kg
Dimensions and weight
(whole package)
DeltiQ 2: 49×53×105 cm / 18 kg
DeltiQ 2 Plus: 49×53×105 cm / 19 kg
Power
Input 100-240 V, Output 24 V, 250 W
Print Output

X/Y resolution
According to the used nozzle in the range of 0.25-1.2 mm, standard 0.4 mm
Z resolution
A layer height of down to 50 microns, maximum layer height depends on the used nozzle
Maximum nozzle temperature
Standard up to 300 °C, with upgraded temperature sensor up to 350 °C
Maximum print bed temperature
105 °C